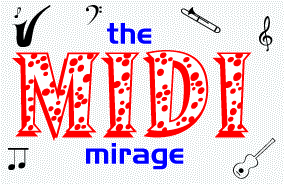 Due to the rising tension between the music industry and its internet fanbase, it was decided that running a small, independent, non-financially backed site such as this would sooner or later become a source of trouble, whether or not the end this site serves is truly right or wrong. I firmly believe that over the years, The MIDI Mirage has done far more good than evil, if it has in fact done any evil at all.
I started The MIDI Mirage many years ago because of a lack of good, well-organized MIDI sites with high quality MIDIs. I believe that I accomplished my goal quite well, and I had a lot of fun in the process... at the height of The MIDI Mirage, there were at least 10 files being added daily. Since that time, my interest in the site has not dwindled, but my free time and ability to keep it updated has. I decided to keep the site online, albeit inactive, so that the library would remain available.
But at this point in the internet's evolution, the legality of sites like this has been called into question. Only time will tell what the answer to that question is, but I believe that the fate of freedom of speech, and action, on the internet depends on it.
Maybe someday The MIDI Mirage will be back, but until then, thank you for your patronage, and it's been fun... it really has.